Introducing Virti Feedback: A New Feature to Help Improve Your Learning & Development Initiatives
Virti Feedback Suite has just been released! Allowing organisations to engage with employees and listen to their feedback to take actions that will optimise organisational success.
In today's digital age, training & development is more important than ever. It is essential that all employees in an organisation progress at their own pace and reflect on what they need to know to do their job well and be amazing. Organisations who listen to their people see higher rates of engagement and retain the best employees for longer. That's why we're excited to share Virti Feedback with you.
Virti Feedback is our no-code digital survey creation tool that allows you to communicate with your people and customers in real time and act on their responses. At Virti, we believe that every employee should have a voice. Don't just survey your people. Engage them before, during and after training.
Traditional feedback collection systems are time-consuming, costly, disengaging and episodic, with lots or organisation defaulting to paper-based feedback before and after learning or not measuring training impact at all. Virti Feedback is intuitive and easy to integrate into existing processes, so that collecting feedback becomes meaningful. Responses can be tracked and compared over time, or downloaded for offline detailed analysis.
Top 6 key features of our feedback suite:
Fully-customisable, no-code form creation.
Quickly create quantitative (Likert scales) and qualitative (free text) form fields.
Capacity for any-time & real-time data collection.
Remote and custom surveying of wellbeing, engagement, satisfaction (eNPS) and more.
Detailed statistical and textual analysis: analyse employee feedback.
Concise results displayed on clear graphs and charts.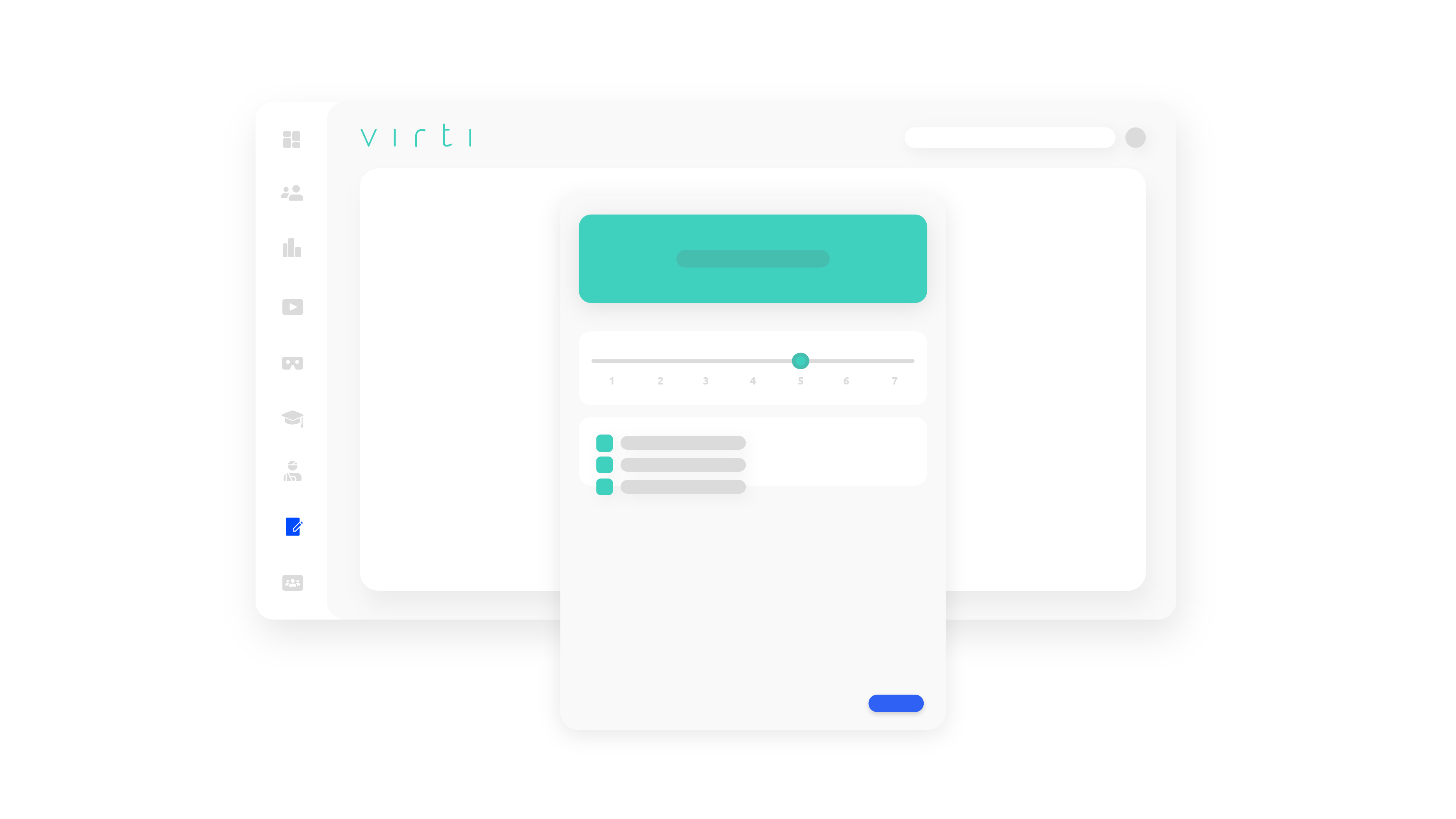 Why are we releasing a new feedback feature?
In order to be successful in a world and culture that is data driven, it is necessary to measure performance and collect feedback from employees on a regular basis and have this readily available across the organisation. Happy, engaged employees means a more productive and successful organisation. Recent studies have shown that highly engaged teams show 21% greater profitability!
How our feedback feature can help you
Virti Feedback, is designed to help organisations improve learning & development initiatives by easily collecting valuable feedback from employees. You can attach a feedback form that will automatically pop up after any online training simulations, through our Virti App or Web Player 2.0. Alternatively, feedback can be collected outside of the Virti app so that you can survey customers or anyone without the need to login.
Managers can then review detailed summaries of feedback to analyse results and gather insights through our analytics dashboard. Ensure you don't just survey your people. Engage them before, during, and after training. Inherently, creating a workplace training environment which is customised to your employees.
Creating a feedback form is very quick and simple, as our team constantly seek for UX and UI improvements and optimisation.
What is the benefit of feedback for your organisation & employees?
Feedback is fully integrated into the Virti platform, not only allowing organisations to gather all of your feedback in one place, but also having access to insights and reports that can help you and your organisation assess performance in training and development activities.
All of the above is readily available in the feedback area of the dashboard for managers and organisations to review detailed summaries of their feedback and analyse results with different property filters, over a given period. These insightful outputs will allow you to make data-driven decisions on how to improve your relevant skills training strategy.
Employees who feel their voice is heard are 4.6 times more likely to feel empowered to perform their best work. Therefore, it is key for organisations to be successful in this area of the business.
The importance of obtaining employee feedback in a cost effective way
On average, only 20% of global employees are engaged in the workplace. This costs organisations upwards of $500 billion annually in the US alone. At Virti, we're committed to delivering a solution.
We built the Feedback suite to give organisations access to the insights necessary to implement change, drive innovation, grow engagement, improve productivity, and nurture talent.
Using our Feedback feature allows organisations to build an extensive understanding of the overall performance across their team with insights into a wide array of metrics (such as engagement, quality, productivity levels and many more). This will help you identify key areas for improvement based on objective data.
Consequently, supporting organisations to focus on what really matters - improving individual and team effectiveness whilst aligning your organisations goals to your learning and development framework.
It has been shown that 89% of workers at companies that support well-being initiatives are more likely to recommend their company as a good place to work.
Virti Feedback can drive tangible actions within teams like sharing best practices through peer-to-peer learning opportunities; adopting new technology platforms such as XR, AR and VR; developing leadership skills; and many more, which are fundamentally tied back to business objectives such as cost savings and process optimisation.
Ready to see Virti Feedback in action? Check out our full demo available here.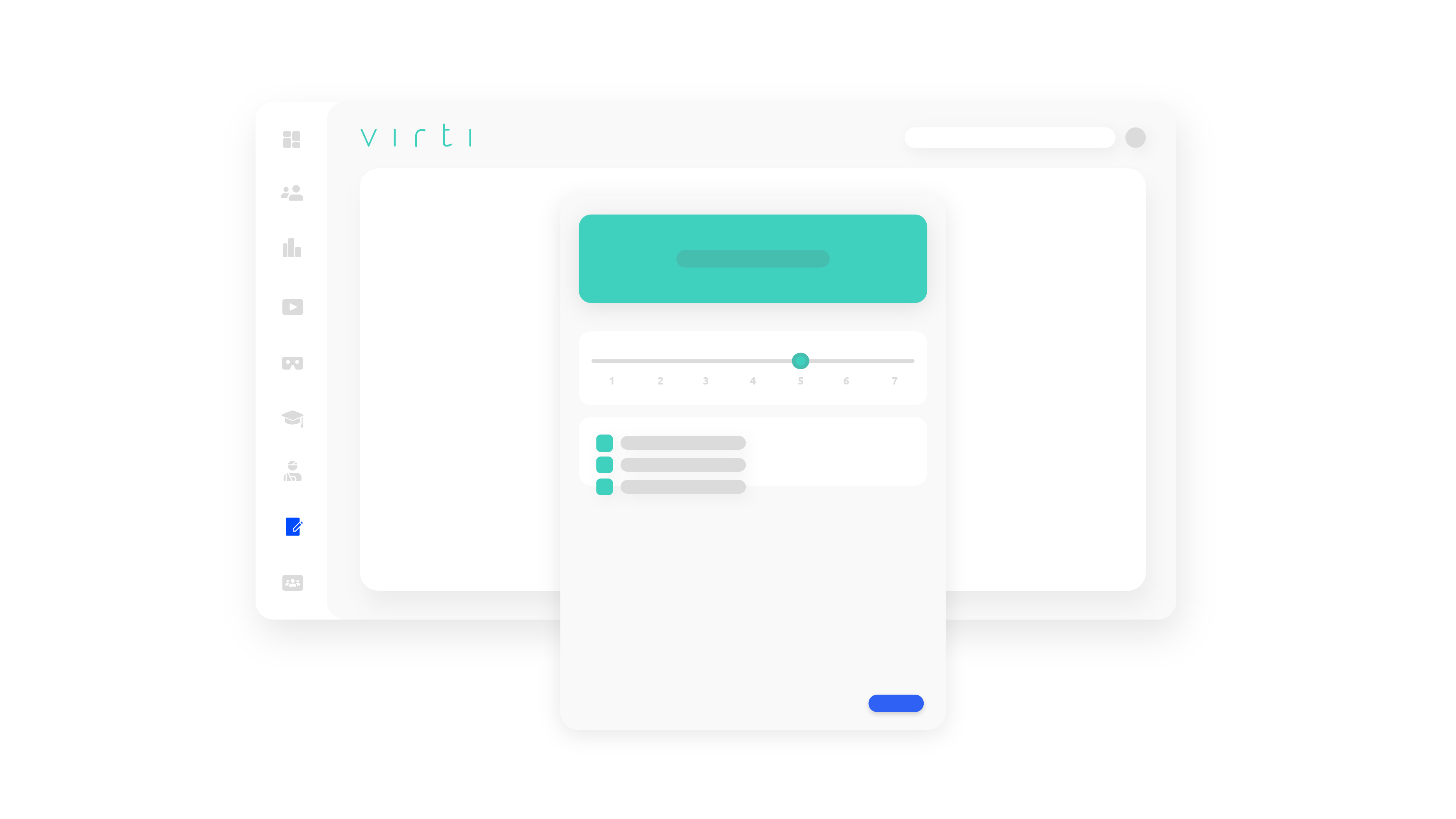 Follow this link if you would like to learn more about how Virti Feedback can help your organisation improve your training and development process.